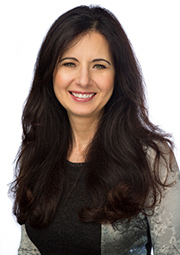 Sofie Stergianis is a private adoption professional who has worked in the field of adoption for four decades. She has a Bachelor of Arts degree in Psychology and a Masters degree in Social Work, both from the University of Toronto. Sofie started her adoption career in the Children's Aid system, and for 14 years worked extensively in adoption and foster care with birth parents, foster families, and adopting families. Since 1994, Sofie has been working as an adoption trainer and adoption practitioner in private practice. She has been offering pre- and post- adoption services and counselling to families, and through the years has been instrumental in assisting with the formation of a multitude of adoptive families, both domestically and internationally.
For almost three decades, Sofie has been offering adoption education seminars, which have received excellent reviews. Sofie is a specialist in all the types of adoptions. She has worked extensively with families formed through Children's Aid Societies as well as through private Ontario adoptions. She thoroughly understands the nuances of international adoption, and has toured orphanages in a number of different countries. Sofie has offered a variety of different adoption education workshops and lectures, and she has been a keynote and guest speaker at a number of conferences. Seminars are highly informative and entertaining, with interesting anecdotes and examples. Sofie has a relaxed and natural style, and participants leave feeling they have learned a great deal in an enjoyable environment.
Sofie is also the co-author of two books - a children's adoption book entitled: What is Adoption? Helping Non-Adopted Children Understand Adoption, which has sold worldwide, as well as the newly released book: Embrace Your Fertility.....Empowering You With Tools To Help You Succeed. In her personal life, Sofie is a parent through adoption, and her son, adopted at birth, is now a young adult. This experience has greatly assisted Sofie in gaining further experiential insights, which are shared during her trainings.